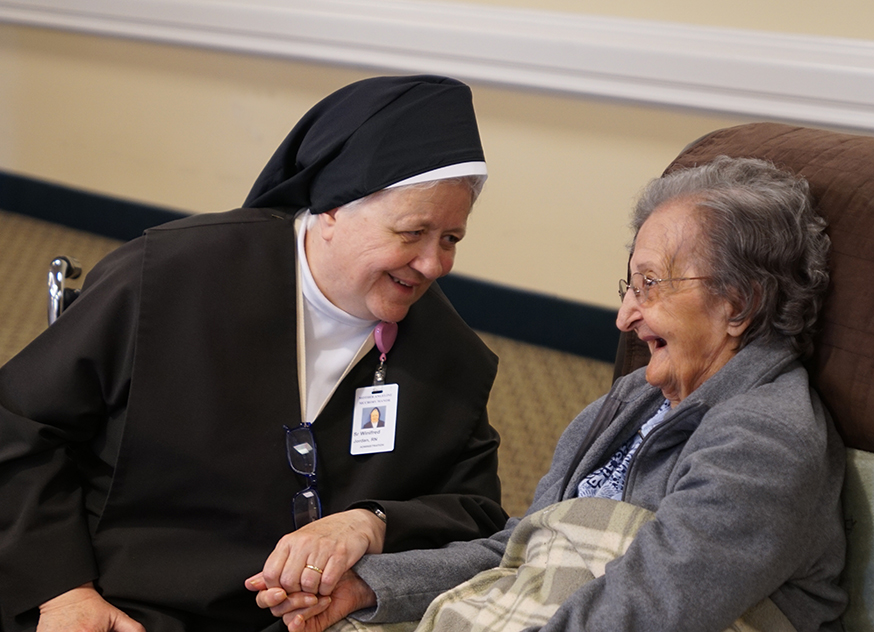 Picture this: a resident of a nursing home is no longer able to speak, yet he wears a mask of complacency because of Parkinson's disease. He finds out that his brother, who lives in another state, died the previous week. The resident seems outwardly peaceful to the care staff, who do not know that he was very close to his brother. He deals with a broken heart and grief without any special comfort through the night and part of the next day. The staff are kind but unaware of his suffering.
This kind of scenario happens all the time in an average nursing home. Major events happen in residents' lives, but a system ensuring that care staff know what is important to each resident is lacking. The above scenario happened at Mother Angeline McCrory Home in Columbus, Ohio, before the implementation of the Carmelite Palliative Care Program. Fortunately, two people found out by chance about the man's grief the next day. One happened to be Sr. Winifred Jordan, a Palliative Care Nurse and Carmelite Sister, who alerted the rest of the staff to the resident's devastating emotional, spiritual, and family pain so that they could comfort him. Every day since its implementation, the Palliative Care Program has brought lay staff to new levels of person-centered, teamwork-oriented care. The structure of the Program ensures that staff know their residents' histories so they can share in their major life events and deliver special comfort care to every single resident.
"Palliative care is looking beyond the obvious and seeing what makes a person a person." Every word that Sr. Winifred speaks is imbued with mission. Trained in the Carmelite philosophy of comfort care of the whole person begun by Venerable Mary Angeline McCrory in 1929, Sr. Winifred and Sr. Maureen Sullivan now train a staff of lay people to carry on that mission at Mother Angeline McCrory Home.
The palliative care team recognizes that excellent care comes from paying attention to details and knowing the people for whom you care. Whether ensuring that a resident who wants an extra pillow gets one, asking families for input, or running collaborative staff meetings, Sr. Winifred and Sr. Maureen have enthusiastically embraced training staff in palliative care and teaching them that care must go beyond the basics to see the unique person. Inclusion is important in Carmelite tradition. "What kind of community do we want? We want a house of love. How does that happen? Respect. And that's where I focus all my energy." The palliative care team is passionate that staff actively help residents be the best they can and want to be, help them adapt to change, and keep in touch with person inside.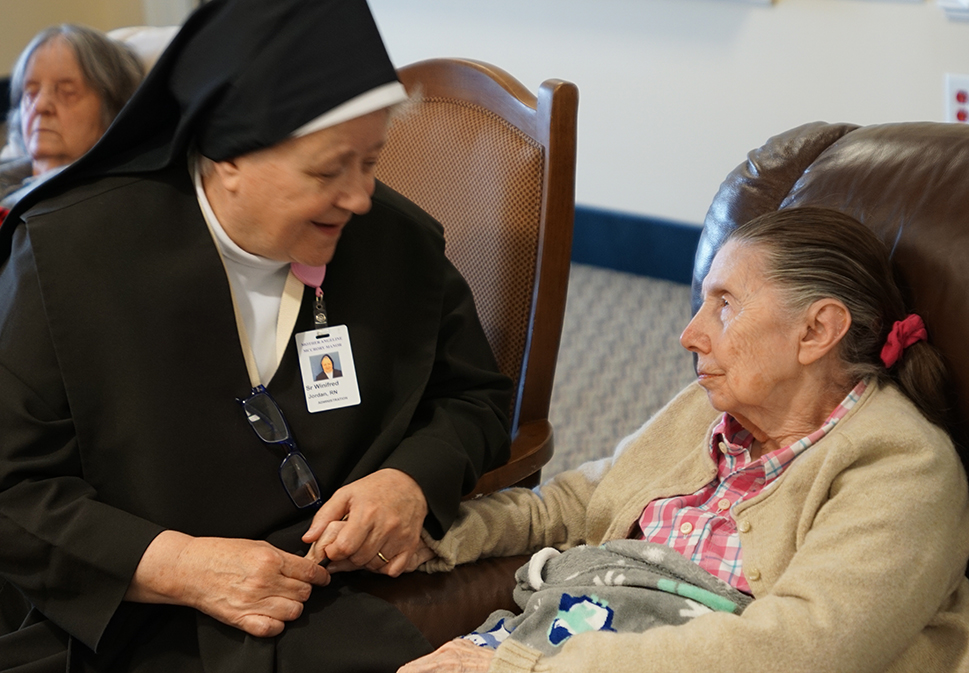 The Carmelite Palliative Care Program launched at Mother Angeline McCrory Home in August 2016, followed by a month of intensive education for the entire staff in September. At that time, the home was switching from paper to electronic computer systems while State inspections simultaneously took place. However, Sr. Winifred recognized the vital importance of implementing the Palliative Care Program and knew that it could not wait for another time. She accomplished the month of education by making staff education sessions a priority and striving to put them at the best possible time during staff members' shifts, when they could concentrate instead of being busy or stressed.
The Program was introduced unit by unit throughout the nursing home. After training, staff was tested for competency and then, once staff testing was completed, they put the principles of the Program into action right away. While training happened, two Carmelite Sisters carried out pain assessments for all residents in the home. Physical pain assessments are standard in any care facility, but the Sisters also assessed residents for spiritual pain, emotional pain, family pain, and psychological pain (such as depression.) Every resident is re-assessed yearly and has a quarterly check-in screening. Additionally, Sr. Winifred filled out resident profiles that document what is important to each resident- family, jobs, history, places they have lived, nicknames, etc.- and put the profiles in a binder for all staff to study. This system ensures that staff can get to know the residents and treat them as individuals. Weekly team meetings are attended by staff from all areas of resident services- dining, housekeeping, maintenance, nursing, recreation, and social services. "They're not only engaged, they're excited," Sr. Winifred reports.
This teamwork approach has enormous benefits for both staff and residents. Problems are brought to light, discussed, and solved. In one case, a resident with multiple serious illnesses called staff members to the room constantly to manage pain. The staff were unable to complete their other tasks and began to view this resident as troublesome and difficult. Bringing up the problem at a staff meeting led to several meetings with the resident to understand the source of the anxiety and negotiate a pain medication contract. The resident was able to choose how pain was managed and began to relax once the schedule went into place. The contract is adjusted as needed and the resident continues to remain comfortable. The look of constant pain is gone, and the resident now has control over management of the pain. Sr. Winifred said that everyone feels much more positive after implementing the contract. "It shows the residents that they are listened to, that they are important, that their care is important, and that we don't want them to suffer. It was also important for staff to know that their schedules were important, and that by working as a team we can have things happen so it doesn't turn into and 'us-against-him' sort of response."
Sr. Winifred also reports that staff members are greatly benefitting from the Palliative Care Program. They understand that the administration is on their side and they are regularly consulted for input on problem-solving. The principles of the Carmelite Palliative Care Program have been effective at Mother Angeline McCrory home, and Sr. Winifred's hard work to collaborate with staff for the residents' benefit has yielded tangible results. More stories featuring the Palliative Care Program in action can be seen here.